How to keep staff motivation high?

Here is a guide, in installments, on the management of the employees of the apartment block administrator
1. Passion
Make, of what you love and of which you are passionate, your mission of life, your "call"!
This is the number 1 motivation! Encourage your staff to do what they love. Motivation comes from your heart.
Motivation is the reason for people's actions, desires and needs. The motivation is also the direction towards behavior or what causes a person to want to repeat it.
An individual is not motivated by another individual. Motivation comes from within the individual.
It is important to understand one's own strengths, those of others and to strengthen them!
2. Vision and sharing
It is important that every worker knows the vision of the rest of the staff and colleagues. Every person must perceive the importance of their opinion.
Every individual must feel important, valued, listened, satisfied, faithful, and confident.
The whole team must have a clear and aligned vision in every project. Everyone must be part of the same vision and have the same objectives. Create a monthly, quarterly, semi-annual, annual, 2, 3, 4, 5, 10 year view, etc.
What is the big vision, in the long term, in the career of a secretary? Become a manager?
This or any other higher role is motivating and stimulating for the employee!
Identify what is the long-term, great vision in the careers of collaborators who follow the condominium assemblies.
Ask yourself what is the big vision, in the long term, in the career of any commercial (real estate agents)?
Here is an example of a "vision board":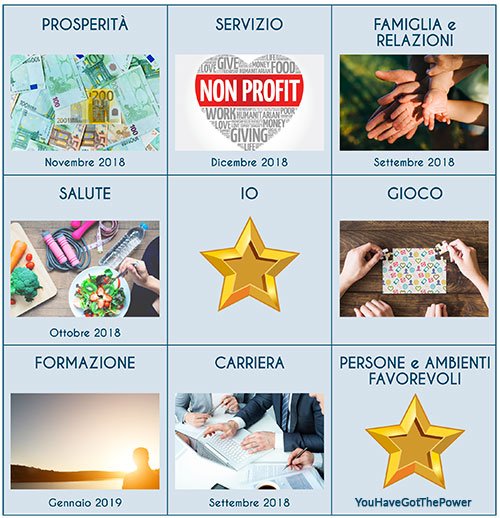 n the image of the previous page there is an example of a "vision". I suggest you print it and create a copy to modify it and adapt it to your vision. This fun exercise, to be done alone or with family, friends and co-workers, will allow you to understand if your visions are aligned.
Good or good?
Add images …
A method we use to add images is by going to the link https://images.google.com, pixabay.com, Flaticon.com, shutterstock.
Here, by typing a keyword, you can search for other images that you can edit completely, depending on your taste.
For example, look for "happy intimate relationship", then click with the right mouse button on the image, make "COPY" and, at this point, a powerpoint file will open. Click on the top left, CHANGE and then PASTE. At this point you can resize and move the image according to your needs.
Add words, dates, images, change colors, etc. Be creative and always more specific in choices. But remember to save the file again, after your creation! Another option to create a vision card can be found at: www.MagicFuture.com
The mental maps of Google
If you think it's easier or better to use the maps, search on Google "mind map".
Here you will find free software.
YouTube
In addition, you can make a viewing video with applications on your smartphone or on your computer software. YouTube.com provides great examples of visions to stimulate your wild imagination.
Have fun, make fun of yourself and share your creations.
Always keep it with you
My advice is to print it and put it everywhere (mirror, wallet, dashboard / car visor, fridge, wall, blackboard, etc.)! Or keep it as a computer screen saver or as a mobile phone background …
You have the power to be, do and have what you want!
In the next issue:
Do not miss the next issue because I will talk about Expansion, Organization Chart, Feedback and Training.
Download the pdf below: